Color Change Information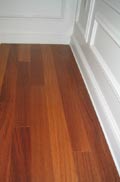 The Species:
Flooring Trade Name: Brazilian Teak, Cumaru
Botanical Name: Dipteryx, odorata
Lumber Name: Cumaru, Almendrillo
Grows In: Brazil, Bolivia, Peru, Costa Rica
Description:
Brazilian Teak is a dense hard wood with a range of colors varying from a tan brown to a reddish brown with some pieces offering a black striping.
Color Range & Color Change:
Color Range: Brazilian Teak is usually color sorted into medium and dark range selections in which the tan brownish tones are offered in the regular (or medium) selection while the dark reddish browns are offered in the dark selection.
Color Change: Brazilian Teak's color range will slightly mute over time into a more uniform color in the range offered.
Hardness
Brazilian Teak is exceptionally dense at 280% as hard as red oak (3540 on the Janka scale vs. 1260 for red oak).