Brazilian Walnut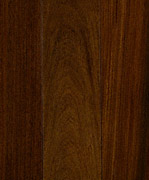 Looking for Ipe ( Brazilian Walnut ) decking or raw lumber ?
The species Brazilian Walnut (Ipe) is the hardest species we carry. Brazilian Walnut, known for its exceptional hardness and resistance to wood boring insects and fugi, this exotic hardwood is a great choice in both residential and commercial installations. Typically users who require an extremely durable floor or desire a dark floor choose Brazilian Walnut. We offer only one superior quality grade (clear grade), in both Prefinished and Unfinished formats and several sizes.
Brazilian Walnut from South America has a deep dark brown colored wood with exceptionally fine graining. It is one of the densest woods available, and the densest in our collection - at 3680 on the janka hardness scale vs 1260 for Red Oak.
Want to see more? Click the badge below to see an example of our Brazilian Walnut flooring being used in a recent home installation in St. Simons Island, GA!
Our Mill in Brazil uses Sustainable Forestry Practices, which includes environmental and socially responsible forestry practices. After 70 years in the lumber industry, we value the land and practice sustainable forestry. Sustainable forestry means that the amount removed will not exceed the amount that will grow back between harvests.
Like what you see above? Click the button below to obtain more information about our prefinished, unfinished, and engineered formats.