Product Specifications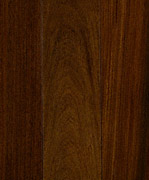 The Species:
Flooring Trade Name: Brazilian Walnut
Botanical Name: Tabebuia, spp
Lumber Name: Ipe, Cortez
Grows In: Brazil, Bolivia, Peru, Venezuela, Guatemala
Description:
Brazilian Walnut is very hard dense wood with a deep rich brown coloration and exceedingly fine graining.
Color Range & Color Change:
Color Range: Brazilian Walnut color range varies considerably based on where it grows. It can vary from a light yellowish tan color with greenish overtones to an almost blackish brown. We offers Brazilian Walnut in the medium brown tones.
Color Change: Brazilian Walnut when freshly milled will exhibit a large range of coloration, which will quickly mute into a more uniform range which then will darken over time to a medium to dark brown color.

Hardness
Brazilian Walnut is 290% as hard as red oak (3680 on the Janka scale vs. 1260 for red oak).