Unfinished 3/4 inch solid format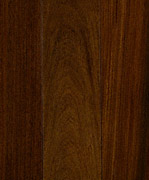 At Brazilian Direct we offer consistency. We sell only one grade of Brazilian Walnut (Clear grade) that is produced by only one mill. This takes the guesswork out of buying your flooring. Your Brazilian Walnut floors will match from job to job and the color variation will be in an acceptable range. Our T & G profile will always engage properly and the overwood will be minimal. We encourage you to compare our quality to the current Walnut you are using. Consistency is the key to avoid those expensive callbacks. We dry our Ipe to 7 % and it is milled to NOFMA standards.
Our mills in Brazil use Sustainable Forestry Practices, which includes environmental and socially responsible forestry practices. After 70 years in the lumber industry, we value the land and practice sustainable forestry. Sustainable forestry means that the amount removed will not exceed the amount that will grow back between harvests.
Unfinished Brazilian Walnut continues to be an outstanding choice for new construction. Many builders choose Unfinished because they insist on square edge material and unfinished works better in the dirty new construction environment. Brazilian Walnut will significantly improve the quality of your home. As the densest and hardest product we offer, it will last a lifetime or more.
Dimensions:

3/4 x 3 1/4 x random to 7 feet
Average length is 38 inches